Dear players and DXE users,
as I promised, I'm bringing you an update just in time for heroics on Apollo 2. Now this update contains everything I've stated in the previous post and more so let's take a look.
Morchok
Stomps and Crystals
Watching a couple of streams in this past week I just realized that the feature of showing Stomp and Resonating Crystal Warnings for both target and focus has a dumb side effect – some people might want to use focus for the other boss just to multi-dot or for other reasons but not to have that boss' warnings displayed. That ultimately defeates the purpose of the feature to reduce spam.
So in this version I added two more options that allow you to ignore focus for Stomp and/or Resonating Crystal warnings and only show warnings belonging to your target so you can use your focus freely.
Warlord Zon'ozz
Fixed Void of the Unmaking timer.
Added Zon'ozz active Countdown in the Black Phase
Yor'sahj the Unsleeping
Improved timer mechanics for people with a newer version of AceTimer library.
Ooze Priorities
A "None" switch option can now be chosen instead of having to select one of the colors for a given Ooze combination.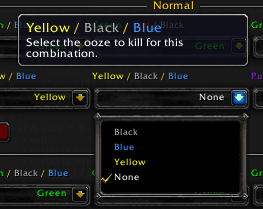 Madness of Deathwing
Added Congealing Blood Warning.
Deathwing's Pane health bar will now be set to visually max out at 20 % in

Phase 2

.
Added 3 phase markers for Congealing Bloods and 1 phase marker for defeat percentage.

Improvements
Options
Anchor stacks can have individual bar spacing.
Increased decimal font size limit for anchored and special timers.
Implemented individual bar settings (detached from

Top

,

Center

,

Emphasis

,

Warning

stacks) for special bars (such as RBG, LFG, Ressurect, etc.) called

Special Anchored Bars

.
Added emphasized and special timers into the Alert Test procedure.
Fixes
Core
You can no longer make a speed kill record of < 1 second to make sure randomly reset defeats with time = 0 would never record.
Added a condition that attempting a defeat inside a cinematic while a delayed wipe should have been set should fail now.
Alerts
Several bar animation fixes.
Options
Setting a default anchored bar text color now actually works and is also animated during transition between two stacks. Same goes for special bars' text.
A special Resurrect timer's show left / right icon options now actually works.